Kim's Rhizotomy Journal
This page is jammed packed with info so if it loads slowly for you I promise it is worth the wait!
August 1999 before SDR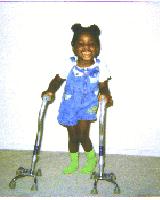 Skip to week 5 post op
Skip to month 6 post op
Skip to month 9 post op


As of August 1999 Kimberly is not standing independently. She can use a K walker and is beginning to use quad canes and can take app. 15 wobbly steps with them! Her left hamstring and hip are very tight and both feet are in poor alignment. Due to her doctor anxiety we are working with child life services at CRS and Phoenix Children's Hospital to prepare her for surgery and hospitalization.
The first step in deciding on selective dorsal rhizotomy is to be evaluated by your local children's hospital rhizotomy team. Kim was evaluated at the CRS clinic in Phoenix AZ. The team consisted of a representative from neurosurgery, neurology, orthopedics, child life, nursing, pediatrics, PT, OT, psychology, and social services. We met with each of them and they met together and discussed their opinions. In this case all felt that Kim is an excellent candidate for SDR and set a goal of ambulation without hand supports. A surgery date of Sept. 1 1999 at Phoenix Childrens Hospital is set. Dr. David Moss is the neurosurgeon who will head up the team. We began a strengthening program with Kimberly's PT, Tami Hirasawa who will also be a part of the team and observe the surgery.
This link will take you to lots of information about SDR
Selective Dorsal Rhizotomy
E-mail Rhizotomy consultant:Kelly Moffat She has had a rhizotomy and can tell you from her point of view what the surgery and rehab was like.
August 29th- We have been preparing Kimberly for surgery these last weeks by working with the child life specialist at CRS and talking a lot about what will happen at the hospital. We watched Big Bird goes to the Hospital which seemed to have made a good impression! Kim has also gone to doctor appts. for mom and brother and a visit with Dr Moss to help her to feel more familiar. We have also began talking about things we will be doing after she gets out of the hospital so she will realize that things will return to normal! Can you believe that what she wants to do most is go to IHOP for pancakes and sausage!

Aug 31st- We took our tour of the hospital. Kim did great and didn't seem nervous. We saw the surgery area, waiting room, ICU room, and playroom where she can go when she feels up to it. Myles asked her if she was excited about going to the hospital and she said yes! She asked me some questions throughout the evening and told our neighbor that "Dr Moss is gonna help my legs". Our son spent the night at a friends because of our early check in time.

Sept 1st- Finally the day arrived. As usual our morning girl was wide awake when we left the house at 4:15 am. She was in a great mood and very talkative until we got to the pre-op area and they began taking her temp and weighing her etc. Then she decided we should go home. She fought and cried while they got her ready but she shook Dr Jones' hand (anesthesiologist) and spoke to Dr Moss when he came in. I was allowed to carry her into the OR and hold her while they gave her the anesthesia. She fought that as hard as she could but within 20 seconds she was out like a light and snoring away. It helped me to see her sleeping rather than have them take her from me screaming down the hallway. The surgery began just before 7am.
Tami came out around 10:15 and let us know that they had finished testing and cutting the abnormal rootlets and were ready to close. She said that during the testing it was interesting to see the abnormal reactions such as when stimulating a nerve that should move the foot her whole leg would scissor. She said that the left leg, which has always been tighter, was jumping all over the place. It was so great having her in there. It really eased our minds knowing that someone who knew her was able to be a part of it. About an hour later Dr Moss came out and said that everything had gone as expected. She had reacted similarly to his other patients and should have great results. She did not need any transfusions. He estimated that 60-65% of the nerves tested were cut.
By 1130 am we were in her room in the ICU where she was to stay the first night. She woke up about 1pm and was in a lot of pain. She told me "I wanna go". They gave her morphine, tylenol, and because that was not working well added ativan, a sedative. She slept again until it was time to turn her. She was to stay 48 hours either on her back or side switching positions every 2 hours. The next time she woke up she said "my back hurts". Poor kid. Thankfully they kept her pain well under control. She had a rough night, waking every hour or so and needing to talk to mom and be reassured. She asked a lot of questions about where we were and if Dr Moss was all done. She was concerned about the IV line and her monitors, especially the one stuck on her finger with the red light. That one she really wanted off! I think I got about 2 hours of sleep that night.

Sept. 2nd-day 2 Unbelievably Kim woke up early and watched her movies! Myles sent over a special Pokemon card for her. She knew which one it was and was really happy. That afternoon she got her catheter out, had a visit from OT and PT and we were moved out of the ICU to the 8th floor. She was very sensitive to touch on her legs and nervous with the PT but her legs looked great and looser right away. I was worried about the catheter being removed and having to deal with the potty issue. They gave us a bedpan but it was really impossible to use without hurting her. We had to diaper her which totally insulted her and was also hard to do without causing a lot of pain but it was the only way to handle it.
Sept 3rd-day 3
Kim slept better. She had a fever off and on up to 103 so they drew blood to check for infection. She is having spasms in her back and a lot of pain. PT and OT came back and had her sit up for the first time. It was excruciating for her and for me to watch. What a trooper. OT had her change from her gown to one of her shirts. They got her into her wheelchair and went to the playroom. She only lasted a few minutes. She was really hurting and keeping her eyes shut. Her head was really leaning to the left and I was concerned but Cindy the OT said that it is to be expected after such a big surgery and that she is holding it that way in response to the pain. Back to bed for awhile and then some macaroni and cheese for lunch. I was surprised that she would eat but she did very well. PT came again that afternoon and sat her up again. More screaming. They wanted me to sit her up for dinner that night but I didn't do it. I felt that she would not eat if she sat up so we skipped it. Dr Moss checked on her and I made phone calls to get her PT and OT appts set up.
Fever again through the night.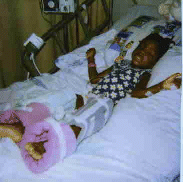 Day 3 was not a good day!
Sept. 4th-day 4
Good mood today! We did her excersizes and then PT came in later and did them again and got her into her chair. One hour later OT came and got her in the chair again and we went to the playroom for about 20 minutes. She played with a drum and some blocks. She is holding her head straight now.
She is still having a hard time with the potty stuff. She asks if it is ok to go in the diaper! It will be good to get home and into our normal routine. That evening I got her into the chair to wait for dad by the elevator. She wanted to get in the elevator and get outta there. Her legs are much less sensitive to touch now and she tolerates the excersizes nicely.
Sept 5th-day 5
Kim slept through the night without meds but really needed them upon waking. She wanted me to hold her but it was too uncomfortable. We did her excersizes and ate breakfast. Teletubbies came on and she said "Oh ya! That makes my back feel better"!
She began having very bad spasms in her back at 10:30 am. so had valium and tylenol with codeine. Her IV was unhooked and she sat in her chair for awhile at noon. PT came in to work with her but she had more spasms. they had her try standing in her walker. She tried hard but was in a lot of pain. She didn't want to bear any weight on her legs. She was in pain the rest of the day and on a constant med schedule.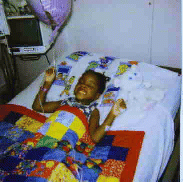 Feeling much happier now!
Sept 6th-day 6
Kim slept well last night. She is in a bossy mood today but at least no spasms. I felt ready to go home now and when the doc came in he agreed and we got to go home!! They probably didn't want this grouch there anymore. Before we left some clowns came in and gave her a toy. I am so tired and glad to be home but I refuse to answer the phone tonight! At home our concern is how to position her to stay comfortable without the hospital bed. We dragged her mattress from her room to the family room to lie on and it seems to do the trick.
She rolled onto the floor to crawl and had a very surprised look on her face that her body felt so different! I helped her back onto the mattress and later on she did crawl a couple of feet.

Sept 7th-day 7
Kim has been complaining off and on about her back hurting. She has been up in a chair twice but mainly resting.

Sept. 10th-day 10
Kim is doing much better than we had expected and impressed her physical therapists this week! She is really dealing well with everything and has a great attitude. Her back is still very sore and at home she spends a lot of time resting. The second day home she wanted to use the potty and get out of the dreaded diapers and she has been doing fine with mom holding her to give her support.
Sept. 13th-day 13
Mom's thoughts... I researched this surgery A LOT! So I knew that Kim would be weak and we would be starting from ground zero but let me tell you it is scary seeing your child-who was walking with canes a couple of weeks ago-not able to bear weight on her legs at all.
Her left leg had a lot of nerve rootlets cut in it and as she begins to feel better and start trying to crawl and move more it is so apparent how weak that side is without the spasticity and how much she was using the spasticity to stand on for that leg. When crawling she tends to collapse to the left for now until she figures out how to use those muscles. Thankfully her right leg is still very strong and working close to the pre-surgery state. On the positive side she is feeling much better now and sitting up more. She rarely needs her pain meds now. I give them before PT just in case!
Sept 20th-day 20
Kim is getting stronger every day. She is sitting up much better now and for longer periods. Her crawling has improved a lot but she is still not getting around the house like before. I believe she has finally realized the differences in her legs before and after surgery. She likes to try to move her leg around and say "look, mom!". It is still new for her to even think of moving the left leg but if I remind her she can do lots more with it.
She is getting stubborn about doing her excersizes so a promise of reading one of her Pooh book's is essential now to get the therapy done! We have a check up with Dr Moss this week and then on Friday her IEP meeting to get her in preschool.
The below picture shows her incision. It's hard to see but it is healing well. It measures app. 5 and 1/2 inches long and runs right along the spine. They used subcutaneus stitches so there are none to remove.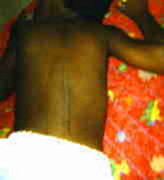 OUCH!



Sept. 24th-day 24
Kim saw Dr Moss today. She shook his hand and showed her stuff! She was sitting up really nicely in a small chair. He checked her incision and asked her to do a few movements like lifting both arms above her head- no problem. Then he held her hands to watch her take some steps. She did great! She was standing quite straight and took some nice steps with him supporting her weight. He was very impressed with her recovery and remarked "this is the 6 week visit, right?" WRONG! It's only day 24!!! She really is doing much better than expected. After the appt. we had therapy with Tami and she worked very hard and tried some different activities such as sitting on a little ride on car and pushing forward and backward with her legs. She did a bit of tricycle riding which was tricky because her long legs were causing her knees to bump into the handle bars! Then she practiced climbing up onto a couch and up three steps and then climbing over a "mountain" made of a floor mat that was built up. She did very well at everything and was worn out when we left.

Sept. 28th- day 28 Kim started preschool yesterday and really loved it. Mom stayed the whole time mainly to see what the typical day is like and answer any positioning questions. She is the most physically delayed child in the classroom and there were some difficulties getting her from activity to activity. Today the school PT was there and gave the teacher and aides a lot of suggestions, keeping in mind that she is still pretty fresh from surgery and not allowed to do much twisting and still is not bearing much weight on her legs. She suggested a stander to allow her to wash her own hands without being held and for some art activities to work on the weight bearing. Her schedule at this time is PT at Fiesta pediatrics 3 hours/week, OT at Fiesta 1 hour/week, one hour a month PT at CRS for monitoring, and the school adds 45 min of OT per week and about the same for PT weekly as well as activities that the aides incorporate into her day. She has been EXHAUSTED the last couple of days! Hopefully she will build up to a better tolerance of everything soon.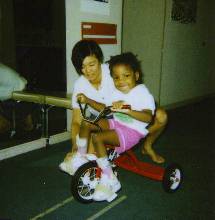 Kim and Tami
Oct. 7th- Week 5
Kim is doing a lot of experimenting with different ways to move this week. It is amazing to see what she can do now that was unthinkable a few weeks ago! She rarely complains of pain now. She was able to stand up very straight and tall at one therapy session this week. With help of course, but it was really something to see how tall she is!
Oct. 14th- Week 6
We could see some gains this week in Kim's standing. She can tolerate standing with support for longer periods of time now. Her heel cords have stretched out nicely and even without the afo's on she keeps her feet much flatter on the floor. At school she has been using a stander for some activities and it seems to be helping her with weight bearing especially on her left leg. She has almost regained all of the skills she had before surgery and now should be able to make some real progress.

Oct. 27th- Week 8
Mom's thoughts......I am very happy with the reduction in spasticity. Kim can move her body in so many new ways now. I have to admit though that I have had to get a reality check. My brain knew that this wasn't a magic "cure" but somewhere deep inside I guess I had that little seed of hope that somehow a miracle would happen and Kim's road would become much easier for her to travel. It is hard for me to see now that it is still going to be a struggle every day for her to do things that so many of us take for granted. That even without the spasticity holding her back, she doesn't yet have the balance to stand independently, or know how to make her legs work the way she wants them too. These things are coming along but it is hard work and she is so amazing and motivated. She still tends to forget that she has a left leg when it comes to standing up. I am wondering if there is another term for when someone is diplegic but one leg is much more severely affected than the other. I am very glad we did the surgery, I'm just having one of those roller coaster days that parents of special needs kids have!
Nov. 7th- Week 8
Kim has been working very hard as usual! She is using her stander almost every day. Her left leg continues to give her the most trouble. Tami gave me an answer to my question above! She said that she would call it asymetrical diplegia since one side is affected more than the other. Thanks Tami! We see Dr Moss next week for a follow up.
Nov 22- Week 12
Kim had a great visit with Dr Moss and he is very happy with her progress calling her a success story! Her range of motion and strength are very improved. What holds her back is having to figure out how to get her balance and learning how to use her legs to stand which is coming along slowly. She is using her walker at school now to walk from the classroom to the bus. Before the surgery she had a lot of scissoring and stepping on her own feet. That has been nearly eliminated now. I don't think I would have felt safe having her use the walker at school before SDR. We are hoping now to begin working with her canes again since the walker relies too much on arm strength and she needs to use those legs!
Dec 16th- Week 15
Kim is working on strengthening her leg muscles and learning how to get her balance. A couple of weeks ago she got new AFO's which are helping her keep her ankles stable and her feet in good position. She is using quad canes at school now and doing pretty well with them. She walks out part of the way to the bus. They watch her to see when her legs are getting too tired and scoop her into her wheelchair. She is very motivated to walk with the canes. At home she likes to hold one of mom's hands and use the other hand on the wall to walk from room to room.
Jan 8th 2000- month 4 post rhizotomy
Very exciting news for you this month!!! Just this week Kim has started to get the concept of putting her weight on her legs and taking a step. We have been working on this with Tami for the last few sessions and it seems that she is really taking it to heart. She still can only stand independently for app. 4 seconds but now if I hold one of her hands she can take about 12 steps consistently without holding on to anything with her other hand. Previously she was holding on to the wall with one hand and really pulling on my hand to keep herself up. Now I can feel that she is using me less and less and her legs more and more!!
I can actually see a time in the near future where she will be practicing at school with only one cane like her buddy Coltin. She is very motivated at home to practice.

Kim and Myles on a January day in Arizona!!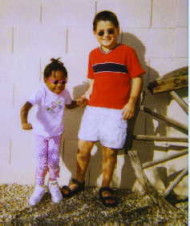 Jan 20 2000
Awesome gains again this week. Kim stood on her own for over 20 seconds! This is a record breaker for her!! She seems to be figuring out how to put balance and weight bearing and weight shifting all together now. She works very hard for Tami and in every session we are seeing some type of improvement from the last session.

Feb 11 2000 Month 5
Kimberly continues to show progress at each session. She is very interested in walking with ONE cane now even though she is not physically ready for it yet. What a motivated kid! At home she has started exploring with climbing skills. She climbs up on her little chair and then onto her table. It is quite a process for her and she is so excited when she gets up there. We took her swimming recently and she was able to go from sit to stand on the steps with the water helping her. It was something she wanted to practice over and over again so hopefully we will get the chance to take her more often.
March 14 2000 Month 6 post op
Kim's big burst of gains have slowed right down for now. After a bad bout of the flu and an ear infection she has been much weaker the last couple of weeks. Hopefully we will start seeing more progress again soon. She is doing great at school and they have just started the kids standing when it is circle time. Last week Kim stood in circle with only one cane for balance!
April 8 2000 Month 7
Kim has been working very hard at therapy as usual. Unfortunately CRS has cut off the hour they had been providing for her weekly and DDD denied adding an hour to replace it so now we are down to two hours weekly of PT and the little bit she gets at preschool.The timing is extra bad for this to have happened now. Kim had a growth spurt that really caused her hamstrings to tighten up. She is wearing knee immobilizers at night and during some daytime activities to try and stretch them out. We are working very hard to avoid hamstring lengthening surgery at this time. I have been researching botox injections and will ask for them when we see Dr Milliner in May. If he can't provide them I have applied to Shriner's for an evaluation. It has been a very frustrating time.
April 26 2000
The school PT tells me that Kim does everything they ask and she never complains. I knew that! She has figured out how to go from bench sit to stand now by herself. She can stay up an average of 7 seconds. More with Tami's help to get herself set. The immobilizers seem to have helped quite a bit with the hamstring tightness.
May 12th Month 8
Kim saw Dr Milliner and he feels that rather than her tight hamstrings causing her to crouch the bigger problem is her weak quads so now we are working on strengthening them. She continues to wear the immobilizers and was very happy that she didn't have to get "purple legs" (casts) at the doctor's office. We looked at old videotape of her from last May and she was not using the left leg AT ALL so even though it continues to be a problem we are very happy with the progress to date.
June 20th Month 9
Kim has been working hard on strengthening her quads with Tami. She is getting stronger and standing straighter! We are hopeful about getting her a Hart Mobility System. Among many other benefits, this will help her get over the idea that she needs to use her hands in order to stand up!
August 16th Month 11
Our request for the Hart Walker was denied by our insurance. I am gathering information to appeal since I think this could be the thing that really helps her develop her balance. Unfortunately it is very costly and along with the travel to Florida for fitting we can't budget it at this time. I think I will end this journal in Sept at the one year anniversary of the surgery. Who knows? Maybe I will just start a new topic~!


Sept. 26th Month 12
Well one year has passed and it's time to close out this journal. I really feel we have gotten all that we are going to get from the surgery at this point. Looking back at old videotape of Kim I can definitely see the difference the surgery made in her legs. She continues to struggle with balance and strength. I am going to try and get her into a vestibular and balance clinic soon and we have an upcoming appt with Shriner's so I will be interested in their opinion. I will post anything of note on her homepage, Kimberly's Place. Thanks to everyone who has contacted me and followed our progress. You have become dear friends. Please stay in touch!~Bren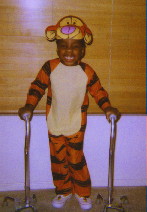 October 2000
Back to the top of this page

;